CASE STUDIES & WEBINAR
The Role of the Advanced Practitioner in Managing Painful Bone Metastases With RFA
Welcome to this Clinical Case Series learning module!
Here's how it works:
Read these 3 case studies on the AP's role in using RFA to manage painful bone metastases in patients with cancer.
Answer the poll next to each case to see how your colleagues are managing this patient population. You'll see results in real time.
Continue your learning by watching a recording of a live webinar presented by Dr. Jeannine Brant, as she delves deeper into the 3 cases and gives clinical pearls for managing this challenging patient population. Download the slides from the webinar for your reference.
---
Decreasing Opioid Use in a Patient With Metastatic Breast Cancer
RFA can result in swift pain reduction, improved functioning, and a decrease in opioid requirements
Teresa is a 54-year-old Chinese American woman with advanced estrogen receptor (ER)-positive, progesterone receptor (PR)-positive, HER2-negative breast cancer. She was diagnosed 2 years prior with stage II disease, then her disease relapsed 1 year later. Her 1-year surveillance CT scan showed a 2-cm pulmonary lesion that was determined to be metastatic.
Since her initial diagnosis, Teresa has undergone three courses of chemotherapy, and she is currently taking fulvestrant for hormonal therapy. During her monthly follow-up visit with the oncology nurse practitioner (NP), she reported new-onset back pain. She stated that she started noticing the back pain last month but did not say anything during her last visit, hoping the pain would pass. She is now tearful and reports that she has a new grandchild, and she is unable to hold the baby due to severe pain. Her pain assessment reveals the following:
Location: mid-to-low back
Intensity: 8 on a scale of 0 to 10, with 0 being no pain and 10 being the worst possible pain
Quality: aching, stabbing
Temporal factors: increases with coughing, movement, and activity; increases to 10 with movement
Teresa's NP orders oxycodone immediate release (IR) 5–10 mg to be taken every 3–4 hours as needed and 650 mg of acetaminophen scheduled 3 times per day. The NP also orders a CT scan, which reveals a solitary spinal lesion at T10. The lesion is 3 x 5 cm and is pressing into the surrounding tissue.
Teresa's NP and medical oncologist discuss these results and recommend OsteoCool radiofrequency ablation (RFA). The procedure is scheduled for the following week. Teresa's pain persists the week prior to the procedure. Her opioid requirements are approximately 50 mg oxycodone per day, which keeps her background pain intensity at 4, but pain with movement remains at an 8.
For the OsteoCool RFA procedure, Teresa goes to the interventional radiology clinic accompanied by her husband. She is given sedation prior to the procedure. She spends approximately 3.5 hours at the center and returns home the same day. The procedure itself takes less than 10 minutes. Post-procedure instructions included watching for infection at the two small incisions made for the OsteoCool device and tapering her opioids according to her individual pain level. A 24-hour follow-up call reveals that the procedure site is without redness, swelling, or discomfort. Teresa rates her pain at rest as a 4, whereas she rates her pain with movement at 6. She had taken 40 mg of oxycodone in the past 24 hours.
During her 1-week follow-up visit, Teresa is smiling and reports that she has been able to hold her grandchild this week. Her pain at rest and with movement is now at a 3 intensity. She is using approximately 10 to 15 mg oxycodone per day to maintain her comfort level.
Which of the following approaches would you consider to help reduce Teresa's need for opioids?
Significant Reduction of Pain in a Patient With Metastatic NSCLC
RFA can result in significant reduction in pain
Edward is a 65-year-old Caucasian man with stage IV, ALK-positive non–small cell lung cancer (NSCLC). He is married with two children and four grandchildren. He has a history of alcohol and substance use disorder following his time served in the Vietnam War. He has been sober and drug-free for approximately 20 years, and regularly attends his 12-step support group. His biggest concern about his cancer is the potential need for opioids and a relapse of his use disorder.
Edward's initial cancer treatment consisted of removal of the lower right lobe lesion followed by radiation therapy and chemotherapy. Unfortunately, he developed brain metastases 2 years later and subsequently underwent another course of radiation therapy and received treatment with an ALK inhibitor. He has been taking the ALK inhibitor for 9 months and recently called the triage nurse with new-onset pain. He now presents to the medical oncology physician assistant (PA) to discuss his new hip and leg pain. His pain assessment reveals the following:
Location: right hip and buttock, right leg
Intensity: 8 on a scale of 0–10, with 0 being no pain and 10 being the worst possible pain
Quality: aching, sharp, and radiating down the right buttock and crossing to the front of the thigh
Temporal factors: increases with sitting
The PA orders a CT scan of the lower back and pelvis. For comfort, Edward is given morphine sulfate 5 to 10 mg every 3 hours as needed for pain. Edward reluctantly accepts the opioids, as he reports he has not slept at night and is unable to keep his mind off of the pain. The CT scan reveals a 2 x 3 cm lesion at S3 and a 2 x 2 cm lesion at S2, indicating the cause of his pain. The S3 lesion is pressing on the sciatic nerve and causing a painful radiculopathy. The PA discusses the findings with the medical oncologist and recommends OsteoCool radiofrequency ablation (RFA).
Edward is scheduled for the procedure 10 days later. He reports to the outpatient interventional pain clinic in the hospital, where he is given sedation, and the interventional radiotherapist conducts the OsteoCool procedure on both lesions. Edward spends 6 hours in the center, with just 20 minutes undergoing the procedure, due to some sedation and as a precautionary measure because of his history of obstructive sleep apnea. Once stable, he returns home with his wife for full recovery.
A follow-up call the next day reveals that Edward's pain is still rated a 7 if he does not take any opioids. Therefore, he continues to use them sparingly. One week later, he reports that his pain has remarkably improved to a 4 intensity, and, at his 3-week visit, his pain is reported as a 1. During follow-up visits, the PA instructed Edward to take opioids only as needed, and no further prescriptions were necessary. Edward was able to completely wean off opioids within 1 month following the procedure and uses occasional acetaminophen for pain. He also reported how happy he was to get back to his 12-step support program and report his success.
What is a major challenge that you frequently encounter when managing pain in patients with substance use disorders?
Maintaining Quality of Life in a Patient With Metastatic Rectal Cancer
RFA results in reduction of pain that is sustained over time
James is a 72-year-old African American man with stage IV rectal cancer. He is divorced and has no children, but has several supportive friends. He belongs to the local country club and golfs three times a week. He initially presented with stage II disease and underwent a surgical resection followed by adjuvant chemotherapy and radiation therapy. Three years later he presented with liver metastases and underwent a liver resection. He has experienced ongoing abdominal and rectal pain throughout his disease trajectory; his pain is currently well managed with 10 mg of controlled-release oxycodone taken every 12 hours and 5 mg of oxycodone taken every 4 hours as needed.
During this past month, James has developed low-back pain that has worsened over time. He is no longer able to golf 18 holes, and he admitted during his follow-up visit that the pain has become severe enough to interfere with his sleep and overall quality of life. He stated that he tried to be "tough" and hoped it would disappear, but the oxycodone is no longer controlling the pain. He reports his pain to his medical oncologist:
Location: low back, center
Intensity: 9 on a 0–10 scale, with 0 being no pain and 10 being the worst possible pain
Quality: aching, well-localized
Temporal factors: increases to 10 when golfing or when coughing
The oncologist increased James' opioids to 20 mg of controlled-release oxycodone every 12 hours and 10 mg of oxycodone every 4 hours as needed for breakthrough pain. He orders a CT scan of the lower back and instructs James to hold off on golfing until he can get the imaging results back. The CT scan reveals a 2 x 2 cm lesion on L1. The oncologist recommends OsteoCool radiofrequency ablation (RFA).
James' friend accompanies him to the outpatient surgery center 1 week later. He undergoes RFA under sedation. He spends approximately 5 hours at the surgery center and returns home for recovery. Anticipating a reduction in pain, post-procedure instructions include decreasing the controlled-release oxycodone back to 10 mg every 12 hours and using the immediate-release oxycodone as needed. The outpatient surgery center calls James 24 hours after the procedure. He denies redness, swelling, or pain at the site of the procedure. His pain is rated as 8, and he is still using immediate-release oxycodone 3 to 4 times a day to control his pain.
During his 1-week follow-up visit to the medical oncologist, James reports that he is amazed that his pain has decreased so dramatically. He reports his pain intensity in his low back at 4. James is golfing within 2 weeks and reports only mild low-back pain at his 6-month follow-up visit.
What diagnostic tests do you consider when determining the etiology of low back pain?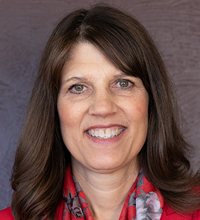 Jeannine M. Brant
PhD, APRN-CNS, AOCN, FAAN
Oncology Nurse Specialist
Billings Clinic
Billings, Montana
Jeannine M. Brant, PhD, APRN-CNS, AOCN, FAAN is an oncology clinical nurse specialist, pain consultant, palliative care team member, and director/lead scientist for Collaborative Science and Innovation at Billings Clinic in Montana.
---
If you enjoyed this Clinical Case Series module on using RFA in painful bone metastases,
check back often to see more modules on new topics.
Let us know what you'd like to learn more about at editor@advancedpractitioner.com